Cloud Manager » Billing
When using CloudManager from EInnovator public cloud cloud.einnovator.org, resources allocation (deployments, volumes, etc.) is paid per use on a hourly basis, with invoices issued monthly or earlier in some cases. Thus, before getting started with actual devops activities users need to enter upgrade the account and a valid credit card information. A small amount is charged at upgrade time (1€, 1$), and the user get 20 cloud credits for free. This allow to immediately get started, creating spaces, deploying applications, installing marketplace solutions, and so forth.
If you are deploying CloudManager on on-premises clusters, own laptop, local or remote VMs, or in public clouds not managed by EInnovator, then billing information is not available. Rather, you can opt for a free/unlicensed installation ("Community Plan"), purchase and setup a low-cost developer license, or acquire a fully supported high-end enterprise license.
Managing Billing Accounts
Each user and organization has a billing Account that is used to track detailed resource usage, and make payments. To navigate to the billing dashboard press button Billing in the top-right toolbar.
To start doing devops work, such as creating Spaces, deploying applications, installing marketplace services, and allocating storage, the Account needs to be upgraded with a valid credit/debit card info. For this purpose, you are redirect to the EInnovator payment gateway, to enter a valid card. You are charged a small amount (1€, 1$) to validated the credit card, and get 20 credits in return. If you already have a card setup in the payment gateway setup as default, then that card is automatically selected and used. No charging is done, and you get 20 credits also in return.
From the Billing dashboard you can keep track of all resource usage for the current billing period. Items are organized by Space for easy tracking. Billed resources are memory, compute and storage resources. For each created Deployment the amount of resources in use are show, with hourly price, monthly cost estimate, an current balance based on usage.
Payments are automatically done in the background on a monthly basis, and in some occasions earlier. You can also decide to pay current balance at anytime by pressing button Pay Now.
To check the full history of payments so far, and get invoices for accounting and tax purposes, you can press Payment History. This redirects to the UI of EInnovator Payment Gateway where you can see history of past payments, see details of each payment, and preview/download invoices.
Image below show a snapshot of the billing dashboard after a user as upgraded (left-hand side), and organization account before upgrading (right-hand side):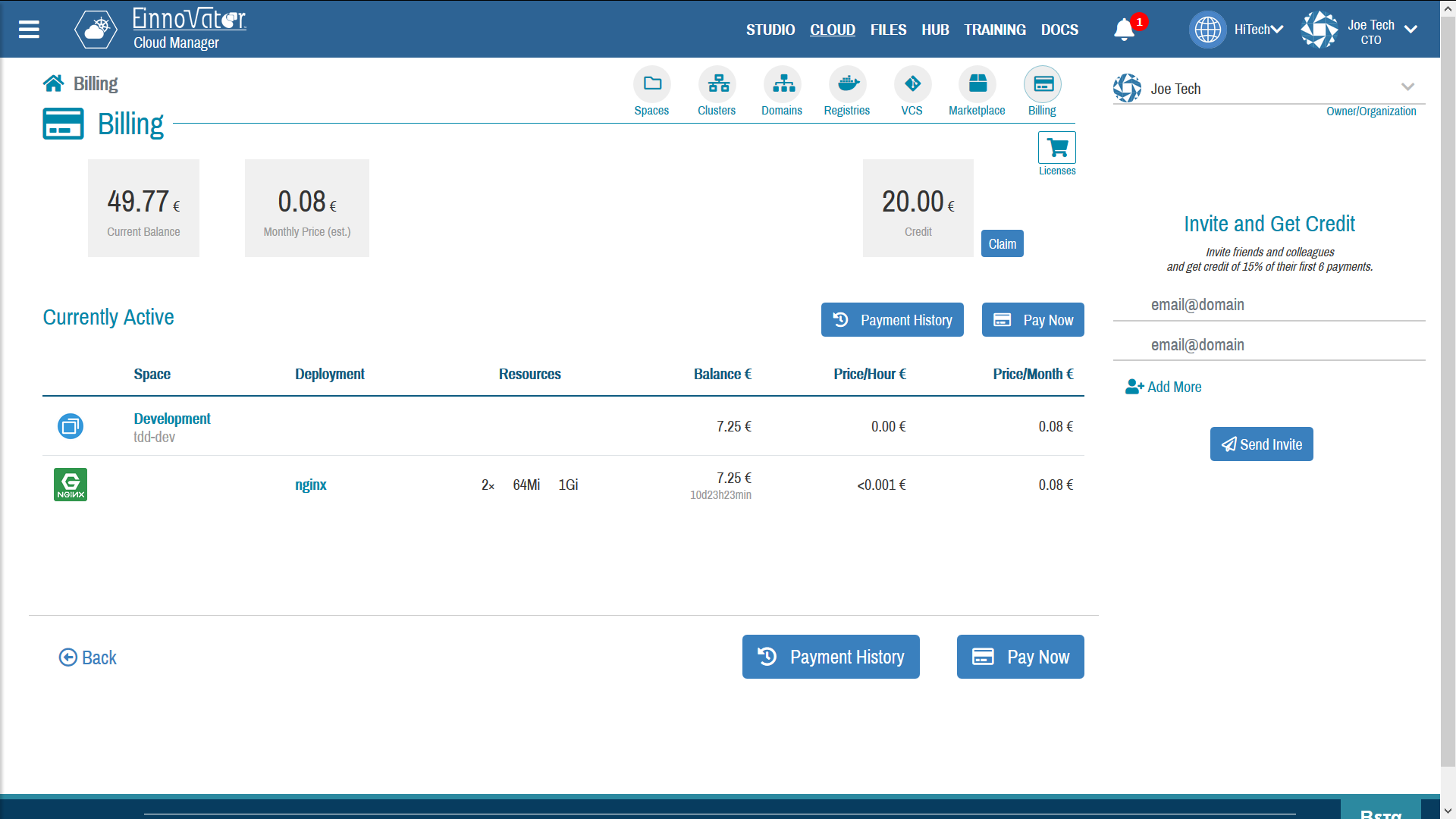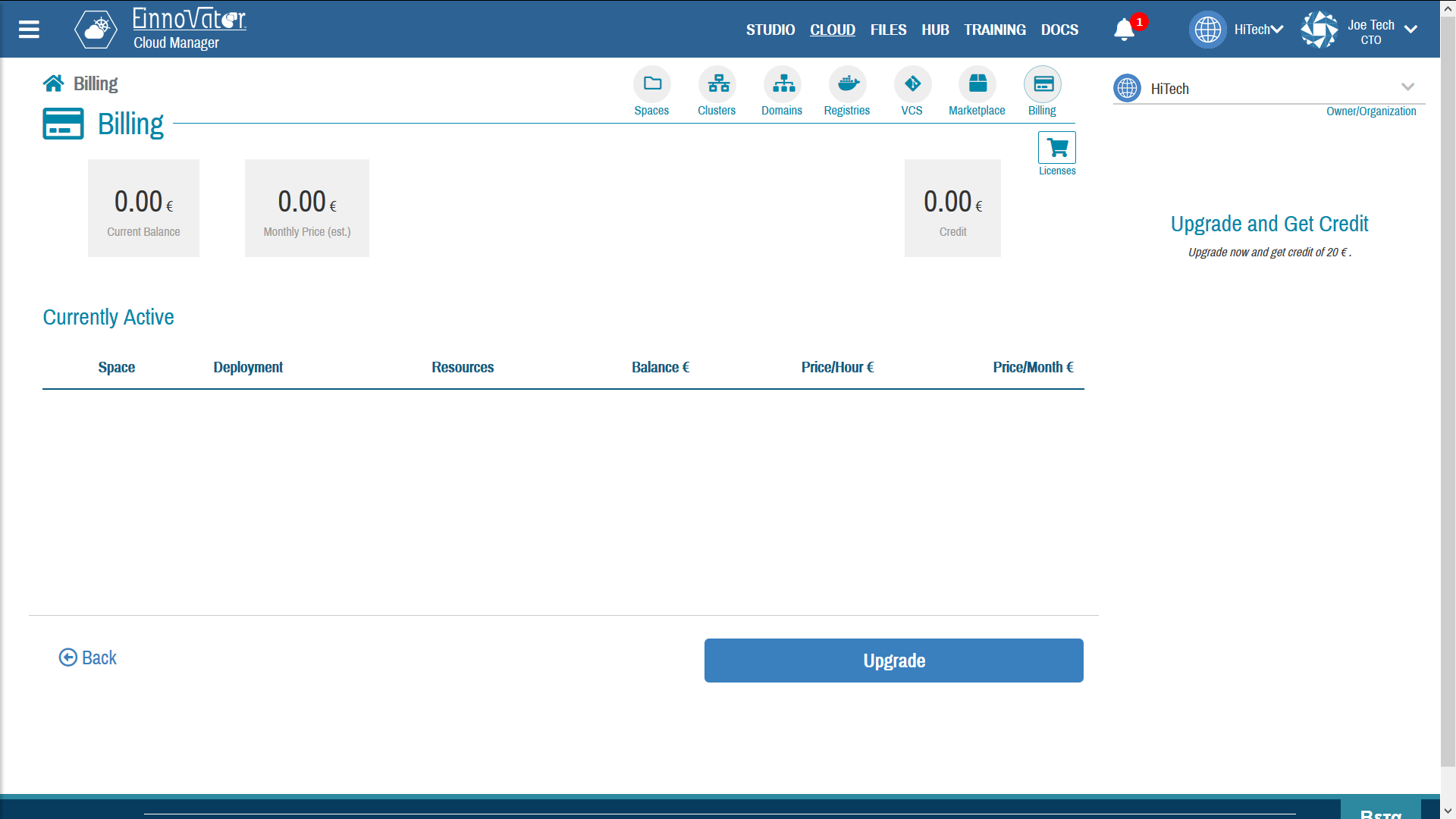 Cloud Credits and Inviting Users
Each billing Account as a virtual balance designated Cloud Credits that can be used to pay in part of full the current pending (currency) balance. At upgrade time, users receive 20 credits. The exchange rate between credits and euros and dollars is 1 to 1. Pressing the button Claim in the billing dashboard, uses the credit balance to reduce the currency balance.
Some credit claiming examples:
if your account has 20 credits, and current pending balance is 10$, then after claiming the credits the currency balance is reduced to 0, and the credits to 10
if your account has 20 credits, and current pending balance is 30$, then after claiming the credits the currency balance is reduced to 10$, and the credits to 0. You the remaining balance will be paid by card at the end of the billing period, explicity with Pay Now button, or by obtaining additional credits.
Cloud credits can also be claimed when purchasing on-premises licenses in a similar way, and in payed training events organized by EInnovator (online or in classroom).
There are several ways to gain additional cloud credits:
Upgrade:

You get free credits on upgrade. Currently this is fixed on 20$/20€. But the value may change, usually increase, for certain campaign periods or special occasions.

Invitations:

You can invite other users to join EInnovator Cloud. When they signup and upgrade, you get a significant percentage of their first payments as credits. Currently, value is 15% of first 6 payment, but the percentage and number of payments may change, usually increase, for certain campaign periods or special occasions.

App Studio:

Users/Organizations that signup for EInnovator App Studo, Professional and Enterprise plan, get monthly free credits in EInnovator Cloud as part of the plan.

Community Contributions:

If you made a contribution to the CloudManager/Kubernetes, AppStudio, or ServiceSuite communities, send an email to support@einnovator.org making us aware of your contribution, and depending on the perceived value of your contribution you will likely be rewarded with generous cloud credits and SWAG. Some suggestions for possible contributions are listed below:

Write an article describing your professional use case or sharing your learning experience, published in some web media or personal blog.
Make and publish a video sharing your experiences with CloudManager/Kubernetes, AppStudio, or ServiceSuite
Organize a local event where EInnovator technologies are focused
Write or contribute to an open-source software project that integrates with CloudManager/Kubernetes
Write a AppStudio application that you may want to share with the community
Write a sample application based on ServiceSuite
Other ideas you may have